Elena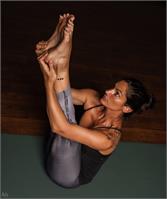 Elena has always been passionate about health and fitness. Being an avid runner for many years and feeling its affects, she turned to yoga for healing.
It was in 2007 that solidified her yoga practice as she used it to recovery from disc surgery. Wanting to share her passion, she earned her 200 hour teaching certification in 2010, and kids teaching certification from Next Generation Yoga. Elena aspires to create unity, through teaching compassion and kindness to ourselves and others, empowering children as well as adults through the essence of yoga.
She enjoys attending workshops and trainings to continually bring new and inspiring ideas to her students. With her soothing nature and trusted presence in the room, Elena leads a class to challenge, inspire, and evoke each student's personal best.


Elena instructs the following:
A fun and dynamic flow based yoga that links movements with breath to create balance in body and mind. Vinyasa places an emphasis on core and upper body strength, while toning and increasing flexibility throughout the whole body.




An adaption of the classic 26 posture sequence that includes breathing exercises. Hatha systematically works the entire body to increase strength, flexibility, balance and stamina. The room is heated to warm the muscles in preparation for a safer stretch and to aid in the release of toxins.