Anna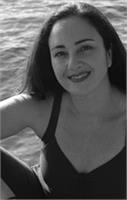 Anna fell in love with yoga after she attended her first class in 1998 and practiced prenatal yoga while pregnant with both of her children. She soon discovered her passion for yoga, movement and birth and has devoted her life's work to supporting families during pregnancy, birth and beyond. Inspired by her own experiences as a mom of two, Anna completed Helen Garabedian's Baby, Tot, Tyke and Little Family Itsy Bitsy Yoga® trainings in 2008 and Blossoming Yogis was born with the intention of sharing the benefits of yoga with kids of all ages and their families.
In June of 2009, Anna completed a 200-hour Viniyoga Teacher Training program and began to study Prenatal Yoga, Postnatal Yoga and Couples Yoga For Labor with Colette Crawford of the Seattle Holistic Center that July. She started teaching Prenatal Yoga in September of 2009 and after over 150 hours of training with Colette, became a Yoga Alliance Registered Prenatal Yoga Teacher in 2011. Anna's unique approach focuses on teaching expectant mothers to understand the changes in their bodies and to empower them to have the strength, confidence and information to have the birth experience that they want.
Anna has also been teaching yoga for school-aged kids since 2010 and is currently working towards her advanced certification with YogaKids™ International.
She is excited to be partnering with Be One Yoga Studio and is looking forward to meeting you and your little yogis! For more information about Anna's classes, please visit BlossomingYogis.com.
Anna instructs the following:
Prenatal Yoga is a wonderful way to stay active during your pregnancy, while preparing your body for labor and delivery. We combine breathing exercises, movement, meditation, relaxation and education about childbirth and your changing body, to help you discover your inner wisdom as a woman and prepare you to birth with confidence and peace.