Brian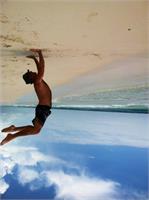 Brian started practicing Hot Yoga about 9 years ago from the advice of a friend. He grew up playing sports, mainly soccer and snow skiing. He was a ski instructor for several years, realizing years ago that teaching others was something he had a passion for. Brian then got into Martial Arts. Studying Taekwondo, Kung-Fu and Brazilian Jiu-Jitsu. Brian also likes to spend time writing songs and playing music, as well as an occasional game of golf. Brian also has a passion for traveling and experiencing life to it's fullest. He has backpacked in over 35 countries to date because of a burning desire to understand the world and his place in it. Yoga has not only helped Brian with his ailments from many years of being active, but also helped him on his spiritual journey as well. "Only those who practice yoga actively can understand the positive effects it has on the entire mind, body and spirit". Loving yoga and knowing his passion for teaching others, combined with his desire to help others receive from yoga the same benefits that he has, Brian decided to go to Baron Baptiste Level 1 teacher training in August of 2010. He then went on to complete his Baptiste Level 2 training in May 2012. Brian is now a full time yoga teacher and he could not be happier, because..... "living your passions is the best gift you can give yourself" !
Brian instructs the following:
A fun and dynamic flow based yoga that links movements with breath to create balance in body and mind. Vinyasa places an emphasis on core and upper body strength, while toning and increasing flexibility throughout the whole body. This class will be warm.