Kim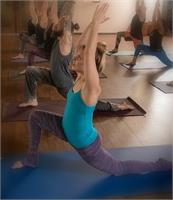 Kim's first yoga class was over a decade ago, but her dedication to the practice began after a knee injury in 2010. She began teaching after completing her 200 hour Hatha training in 2012, and has since been trained through the Baptiste Power Yoga Institute. Kim's classes have been described as challenging, but not pushy. She firmly believes yoga fits every body, and seeks to assist any student that comes her way; wherever they are at in their yoga journey. Her teaching works to cultivate integrity, self awareness, and compassion on the mat in order to show up as the best possible version of oneself where it really counts: off the mat and into your life and community.
Kim instructs the following:
An adaption of the classic 26 posture sequence that includes breathing exercises. Hatha systematically works the entire body to increase strength, flexibility, balance and stamina. The room is heated to warm the muscles in preparation for a safer stretch and to aid in the release of toxins.