Zach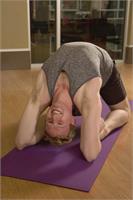 Zach began practicing yoga in 2009 after his girlfriend (and now fiancé) dragged him along to a hot 90-minute power class. After surviving that class, Zach began to work yoga into his routine and enjoyed all of the benefits, both physical and mental. As a means to deepen his practice, Zach took teacher training in 2011 and began teaching shortly after and ever since. Zach really enjoys seeing the growth and transformation of his students, and cherishes the relationships he has developed through yoga. Zach taught yoga in the Bellingham area while earning a Bachelor's degree in finance from Western Washington University. After graduating in 2013, Zach moved back to the Seattle area. During business hours, Zach is an international accountant. His real passion is teaching and taking yoga. Outside of work and yoga, Zach lives with his fiancé and two large dogs, Carly and Thor. Zach knows that yoga will always and forever be a part of life.
Zach instructs the following:
A fun and dynamic flow based yoga that links movements with breath to create balance in body and mind. Vinyasa places an emphasis on core and upper body strength, while toning and increasing flexibility throughout the whole body.




An adaption of the classic 26 posture sequence that includes breathing exercises. Hatha systematically works the entire body to increase strength, flexibility, balance and stamina. The room is heated to warm the muscles in preparation for a safer stretch and to aid in the release of toxins.