Jo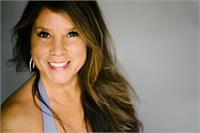 Jo teaches yoga because she herself has healed so much of her own life with yoga, and she wants to teach others that they can do the same. A lifelong battle with depression, anxiety, and weight issues led Jo to try yoga 14 years ago, and her life was completely changed forever! She started teaching yoga full time after completing her Baptiste Power Vinyasa Yoga Teacher Training with Baron Baptiste at the Baptiste Power Yoga Institute in 2006. She also completed an extensive course on giving hands-on adjustments called Teacher Assistant Program (T.A.P.) at Shakti Vinyasa Yoga with Master Baptiste Teacher Lisa Black. Her newest love is Yin Yoga and she completed her Yin Yoga certification with Bernie Clark November 2015. Slowing down and "BE-ing" is what Jo loves about yin yoga (a slower, deeper, gentler style of yoga that targets and strengthens the connective tissues of the body – mainly the joints). Yin yoga helped Jo heal her own body that she felt was wearing down from so many years of living a very active life. The two styles of yoga perfectly complement each other to create more balance not just in body, but in our souls too. Jo's ability to connect with her students and understand their suffering, and their triumphs (emotional, physical, and spiritual) is as unique as she is. Her classes are fun, inspirational, light-hearted yet challenging, and filled with love, music, and soul!
Jo instructs the following:
An adaption of the classic 26 posture sequence that includes breathing exercises. Hatha systematically works the entire body to increase strength, flexibility, balance and stamina. The room is heated to warm the muscles in preparation for a safer stretch and to aid in the release of toxins.




Known as a quiet yet profound practice, yin yoga consists primarily of seated or floor postures with longer holds while focusing on breath work and meditation. During this practice the objective is to relax the muscles, allowing access to the connective tissues of the body. Yin brings balance to the typical yang practice (hatha/power vinyasa). Room is heated to 80°-85°.




A fun and dynamic flow based yoga that links movements with breath to create balance in body and mind. Vinyasa places an emphasis on core and upper body strength, while toning and increasing flexibility throughout the whole body.