Adam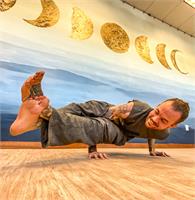 Adam started doing yoga in 2012 due to lower back pain and an excess of free time. His practice soon turned into a passion. His yoga practice has helped him lose weigh, gain flexibility and conquer his back issues. In 2015, Adam received his 200 RYT through Open Up! Yoga with Danielle Zissou. Since then, he has enjoyed the journey of teaching and continuing to find meaning in his own practice. He is an interactive teacher, with challenging flows and energeticly calm classes.
Adam instructs the following:
An adaption of the classic 26 posture sequence that includes breathing exercises. Hatha systematically works the entire body to increase strength, flexibility, balance and stamina. The room is heated to warm the muscles in preparation for a safer stretch and to aid in the release of toxins.




A fun and dynamic flow based yoga that links movements with breath to create balance in body and mind. Vinyasa places an emphasis on core and upper body strength, while toning and increasing flexibility throughout the whole body.