Adam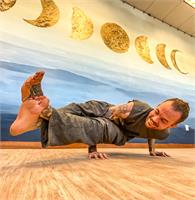 Adam found his love for teaching cats how to juggle fire when he was a young boy. He grew up in the forgotten streets of Houston. Adam always had a love for both cats and, well, fire. He first started out pretty ambitiously. He thought he could teach a cat how to shoot fire. After the second cat tragedy, he was back to the drawing board. He thought long and hard......What are cats good at? They're pretty good with their feet! And so the idea of teaching cats how to juggle fire began. This has been a long road for Adam and the cats. There have been many highs and lows, but they are now enjoying their successes!! You can book "Adam and his AMAZING JUGGLING GATOS" for most events, weddings and birthday parties (No clowns though. They weird me out...with their big shoes and red noses. My nose doesn't make a noise when I squeeze it and yours shouldn't either sir). But I digress.
Just Kidding. Obviously Adam has a good sense of humor!
Adam started doing yoga in 2012 due to lower back pain and an excess of free time. His practice soon turned into a passion. His yoga practice has helped him lose weigh, gain flexibility and conquer his back issues. In 2015, Adam received his 200 RYT through Open Up! Yoga with Danielle Zissou. Since then, he has enjoyed the journey of teaching and continuing to find meaning in his own practice. He is an interactive teacher, with challenging flows and energeticly calm classes.
Adam instructs the following:
An adaption of the classic 26 posture sequence that includes breathing exercises. Hatha systematically works the entire body to increase strength, flexibility, balance and stamina. The room is heated to warm the muscles in preparation for a safer stretch and to aid in the release of toxins.




A fun and dynamic flow based yoga that links movements with breath to create balance in body and mind. Vinyasa places an emphasis on core and upper body strength, while toning and increasing flexibility throughout the whole body.