Kara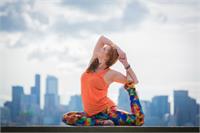 Kara has a passion for movement and anatomy. Her love of movement began with dance and extended into teaching Pilates as an apprentice at the age of 17. A few years later, she was the youngest teacher to enter and complete the certification program from the Pilates Center in Boulder, Colorado. Kara's love of anatomy led to a certificate and career in diagnostic ultrasound but after working in the field for several years she realized how much she missed teaching movement. Kara came to yoga hoping to cope with stress, but she left with so much more: a peace and a sense of calm that she had never known before, as well as a physical challenge that was different from her previous forms of movement. After her first yoga class Kara knew she had to teach! There was no way she was going to keep this secret to herself. She completed Baptiste's Level 1 teacher training program in 2012 and Tiffany Cruikshank's (Yoga Medicine) 200-hour program in February of 2014. She is also certified and teaches Aerial Yoga Play and loves spending time hanging upside down! She is currently working towards her 500-hour certification with Jason Crandell. She enjoys studying various styles of Yoga from international and local master teachers. Combing love of movement and anatomical alignment, she hopes to spark and inspire joy and playfulness through her teaching. In addition to teaching, she is the owner and creator of her own custom yoga wear company, Zebra Mama Yoga.
Kara instructs the following:
We receive the life changing benefits of yoga, and more, when we lift off the mat and into our swings. Aerial Yoga Play creates traction in the spine, stimulation for the lymphatic, circulatory, and endocrine systems, and our minds experience a shift as we inquire from a new perspective. Practicing in this 3-dimensional space allows playful movements that inspire joy.