Emily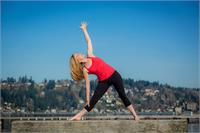 I took my initial yoga class from Colette Crawford at the Seattle Holistic Center when I was pregnant with my firstborn in 2003. It was through pre and post-natal classes that I first experienced the gift of yoga. Three daughters and nine years later, I found myself crawling back to my mat, this time in a very hot room. It was on my mat, and within the astounding community of people at FHY, that I fell in love with the practice of yoga all over again. I first came to FHY for the hard, sweat-pouring workout that I had been promised would help me be a stronger runner, and soon discovered my mat provides so much more. Yoga restores me physically and emotionally. It feeds my soul. My mat is a place where I can be strong and vulnerable all in the same breath. A place I can find myself when the chaos of life takes hold. The transformation, empowerment and possibility that is explored through Baptiste yoga inspires me to share it with others.
Prior to being at home with my three daughters I was a teacher. I earned my Bachelors of Art and Masters of Art in Teaching at the University of Puget Sound. In August 2014 I traveled to NY to attend the Baptiste Institute Level One teacher training. I returned to NY the following summer of 2015 to complete Baptiste Level Two. I've also completed Advanced Art of Assisting and Next Generation Yoga teacher trainings. During these trainings, yoga humbled me yet again. The art of teaching, like the practice of yoga itself, takes practice. I now can combine two of my greatest joys.
Emily is currently not instructing any classes.