Jessica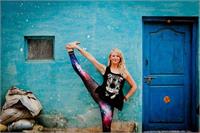 When my journey with yoga began 7 years ago, I had no idea how deeply and profoundly it would enrich my life. For the first time in many years, I developed a sense of peace and ease in my own mind. I even started to feel a love for and belief in myself that I hadn't felt since childhood. I was instantly hooked and it became my new form of daily medicine. My journey is no where near complete as I am always learning and evolving in my own exploration of life and of the practice. My studies led me to become certified as a 200hr vinyasa trained yoga teacher, an Ayurveda health coach and a Nutritional Therapy Practitioner. Currently I am working on earning my 500hr yoga certification. I believe that health is holistic and it requires active participation in being mindful about how we move our bodies, what we think, feel and eat. My classes reflect this understanding by selecting what is right for our bodies energetically depending on the season, time of day, or what's going on around the world. I also believe in body positivity and in practicing in a way that feels healing for your body, and not in a way that is painful or aggressive. I am also trained in Aerial yoga, SUP yoga, Prison Yoga, and Myofascial Release. My goal is for my students to leave feeling strong, empowered, open and connected to their radiant joyful truth. When I'm not on my yoga mat, you can find me in the kitchen, on an adventure, or hanging out with my son and husband!
Jessica instructs the following:
A fun and dynamic flow based yoga that links movements with breath to create balance in body and mind. Vinyasa places an emphasis on core and upper body strength, while toning and increasing flexibility throughout the whole body.




We receive the life changing benefits of yoga, and more, when we lift off the mat and into our swings. Aerial Yoga Play creates traction in the spine, stimulation for the lymphatic, circulatory, and endocrine systems, and our minds experience a shift as we inquire from a new perspective. Practicing in this 3-dimensional space allows playful movements that inspire joy.