about Fit Club
---
Fit Club is a small group training class designed to build practical strength, tone the body, and yes...slimdown, all while meeting your fitness goals. It's not only about the workouts but also about getting the support you need from others to push yourself! You'll gain useful tools on how to workout at home and see how effective bodyweight and small props can be. Who says you need a big gym to get in shape! With a maximum of 10 people per session, Instructor Chuck can modifiy and customize all the workouts to meet your individual needs. Fit Club is designed for all fitness levels and ages.
Each eight week session begins with assessing everyone's personal short and long time goals, a fitness test, and before pictures. At the 4 week point, we do a brief check in to see if your goals have changed or if it's time to set new ones. On the final week, we'll assess
your fitness level once again and take our after pictures. It's alway amazing to see how far you've actually come in just 8 weeks!
 Next Session starts May 12th  SIGN UP TODAY!


before & after
---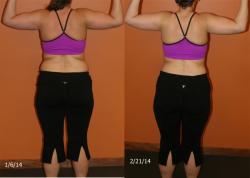 about Chuck
---
Coming soon...
session schedule
---
May 12th- July 3rd Sign Up today!
July 14th- September 5th Sign ups begin June 27th
September 14th- November 7th Sign ups begin August 28th
November 17th- December 19th Sign ups begin October 30th -5 Week mini session